Discover and o

rder ecological
and

local

products

 



Our cleaning kit is a concentrate of the best ecological products on the market, in order to allow our Ekokleaners to exercise their art while respecting the environment. All of our products are certified ecological and local with our partnership PLANETTE company based in Laval (Qc). 
The cleaning kit 
40$+tx – 3-5 day shipping (for 20 uses)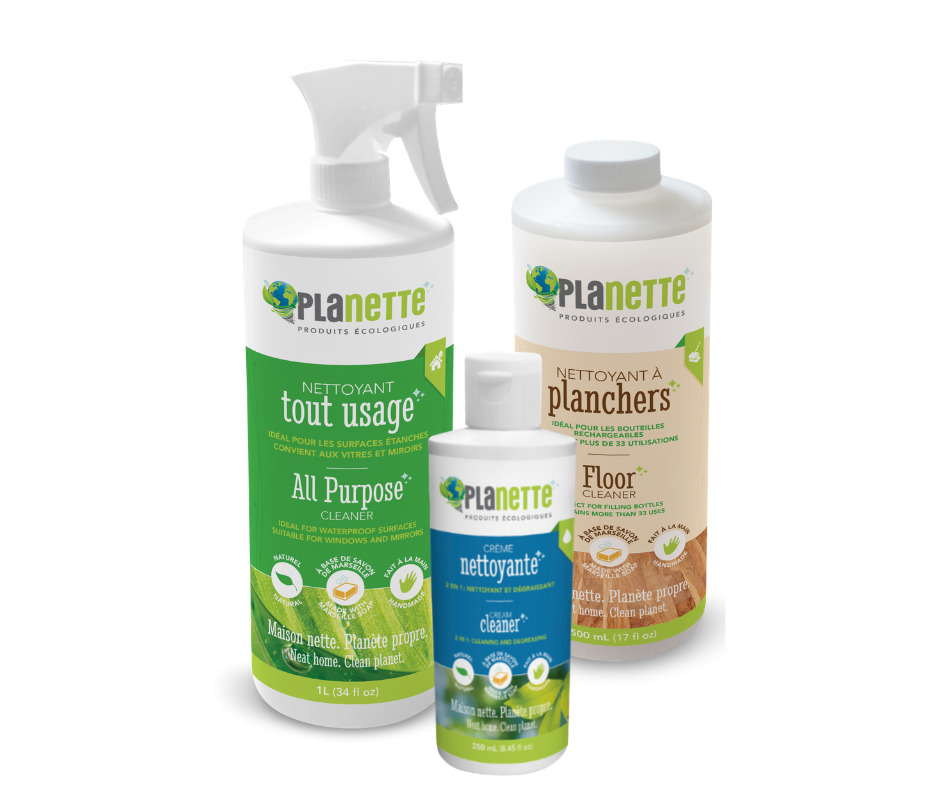 The 1L all-purpose cleaner with spray: Our all-purpose cleaner is the ecological household product that will follow you in all rooms of the house. Its use helps to eliminate bacteria and enjoy a good smell of freshness. Our all-purpose natural and eco-friendly Marseille soap is everyone's favorite. Its smell and its effectiveness will make your cleaning routine even more pleasant.

500ml floor soap: Our floor soap is the ideal ecological household product for washing all waterproof surfaces and can be used as a neutral soap for washing the car or walls

and ceilings. Our natural and ecological floor soap based on Marseille soap is a concentrate that must be diluted in water. You will only need 15ml to 30ml per boiler of water.

The Cleansing Cream 250ml: Our Cleansing Cream is the ideal product for removing grease and grime stains. This is a magic eraser in liquid format. Our natural and ecological cleaning cream based on Marseille soap is a 2 in 1: cleaner and degreaser. This household product is ideal for the bath and sinks. Its degreasing power makes it easy to remove traces of soap residue and stubborn grime. Our products are natural so don't be surprised by the beige color of our cream, because white clay has undergone a chemical transformation to have this color.
You can also order cleaning products on our partner's website: here.